Microsoft Research AutoCollage Innovative Collage Creator
If you've ever tried to create a photo collage or vignette with dramatic fadeouts, you know how time-consuming it can be to get the right effect. You also have to be fairly proficient with your photo editing program. I found some amazing new software that can create a sophisticated photo collage automatically, in only a few seconds. Microsoft Research just released a new desktop application, AutoCollage, that allows users to easily incorporate a selection of images into a collage, blending one image into the other seamlessly. It creates a jpg of your photo collage which you can then save, share by email, print, use in a digital scrapbook, an online photo album, web page, or use as computer desktop background.
How Does AutoCollage Work?
The software uses sophisticated object recognition and face detection methods to rank a collection of images and automatically arrange them in the most pleasing placement. It cuts out the most interesting parts of each image and combines them, blending the edges of each image so you don't see the joins. You can choose from a variety of output sizes from 4x6 to 8x10 plus desktop wallpaper resolution, and either portrait or landscape layout. There are options for choosing from 7 to 25 images for an individual collage. There is also an option for manual face detection that lets you preview the faces the software detects and and change the results, such as only include scenery and no faces.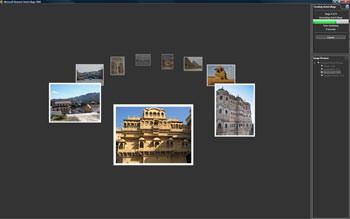 I tried out AutoCollage on a small collection of my photos and was amazed at how quickly it put the images in the best sequence and blended them into each other while I watched. After it imported my images, it literally took about 10 seconds to create my collage. In other photo programs it could take hours of manual photo manipulation and use of blending tools and masks to get a pleasing effect. It's so easy, even someone who has never opened a digital photo software program in their life can do this. If you don't like the collage that was created, you can start over and get an entirely different collage with the same photos in a few seconds.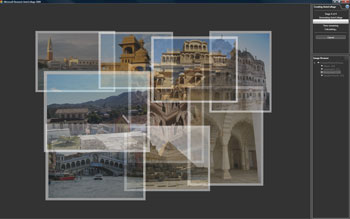 There is an image browser from where you can choose the photos you want for your collage. It uses the traditional Explorer tree format. Because the program imports the entire selected folder and you can't pick individual images from multiple folders, I found it worked best for me to make a separate file just with the images I want for my collage.
What You Can Do With It
I have already created a collage to use as wallpaper on my computer screen, which only took one click, but there are many more creative options. I can see myself using this to create collages of vacation photos, holidays events, wedding or graduations, etc. It can be used in web pages, e-postcards, photo albums, etc. I like to make unique calendars for family members for Christmas, and using photo collages for calendar pages would be a fun new way of presenting photos.
What Are the Downsides?
If you want to embellish your collage with a frame or a caption or add other effects, you would have to import the collage (as a jpg file) into another photo program. AutoCollage is designed solely to create collages. This is not editing software; there are no editing, enhancement or touch-up tools. So if you need to remove red-eye, adjust the contrast of an image, etc., you need to do that with your photo editor before you make your collage. For the most part, it isn't necessary to add special effects, other than perhaps a caption, as the collage looks great on it's own.