Corel's Paintshop Pro X5 Focuses on Social Sharing and Mapping
See my new Paintshop Pro X7 Review here
If you are into social media and sharing your photos, Corel PaintShop Pro X5 Creative Photo Editor
should make you happy. Corel's new release  of their popular photo editing and design software does not involve a large redesign as with their prior version last year, but it does include an array of new social tools and other enhancements. Among them are expanded facial recognition, geo tagging, and social media integration. 
Thankfully, with the new features Corel hasn't messed with what people have really liked in their previous release, which you can read about in this Paintshop Pro X4 review. In fact it pretty much retains the same user interface. It adds some new features and enhances some of the previous existing tools, including high dynamic range tools, and added several new features such as a Retro Lab and an Instant Effects tool.
Highlights of New Features:
Facial Recognition Technology – The software filters images by face so you can identify and tag the people in your pics. You can link individuals to your social media contacts on Facebook and Flickr and if you choose, they can be automatically advised when you upload photos in which they've been tagged.
Photo Mapping—Using the Places feature you can use the Map Mode to map your photos to the places where your pictures  were taken. This can be done using the data from the geotag function of your digital camera, or if you don't have that feature or it was turned off you can manually enter the GPS data, drag photos onto the interactive map or use Facebook checkin.
Share My Trip – This feature enables you to add your vacation pictures to an interactive map and you can create slideshows and  Google Street View maps  and share them on a blog, upload them to Facebook or send links to friends via Dropbox.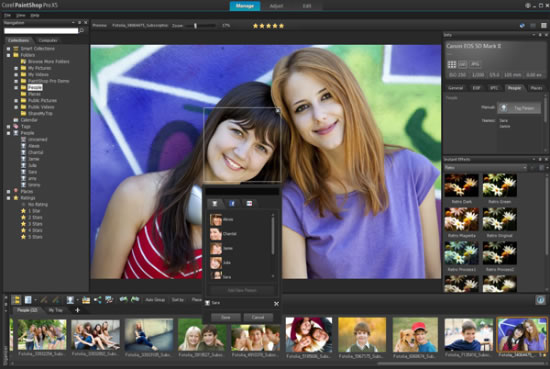 Social Media Integration – You can simultaneously upload your photos to Facebook, Google+ and Flickr. Some people don't like the idea of being tagged in photos uploaded to social sites, so Paintshop Pro X5 gives you the ability to remove tags before uploading.
HDR – The high dynamic range tool now has controls for b&W, alignment preview and batch merge presets. There is also a new Single Raw Photo effect. With this feature you can create HDR images automatically  from a single raw file. The raw file is split into three exposures and then you can recombine them in different ways  to get different effects. This is quite fun to play with and you can end up with some very dramatic images.
Instant Effects – This new palette in the Adjust workspace has seven categories including Traditional, Artistic, Film Styles and Retro and 100 presets in all.
Retro Lab – This feature offers a range of retro and lomo effect presets so you can create your own vintage style. You can use the presets or preview the effects  on your photo then  adjust the saturation, glow, feathering, color etc. to create your own effect and save it as a style.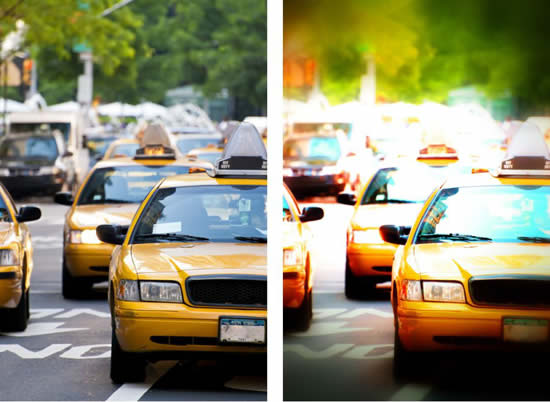 Graduated Filter – Although there were other means to this end in previous PSP versions, it was rather complicated and not easy for beginners. This new tools allows you to add semi-transparent gradients to an image quite easily.
Should You Buy or Upgrade?
Paintshop Pro X4 was a major overhaul and there were a lot of wonderful features and enhancements added. PaintShop Pro X5 adds some great new social sharing features and some fun filters. If you are not into all the social media sharing and just want some solid photo editing software, X4 might be your best bet, which you can still find on Amazon
for around $50. But if you want to take advantage of all the latest social sharing and geotagging opportunities, plus have fun with some cool filters, then PSP X5 is the one for you. If you are a Mac user, unfortunately you are out of luck. Corel still has not developed a version for the Mac.
Prices
Corel Paintshop Pro 5X packs a lot in for the fairly reasonable suggested retail price of $79.99. There is also a Corel PaintShop Pro X5 Ultimate
version for $99.99, which includes all the features of the regular software plus the Nik Color Efex 3.0 photographer filters and REALLUSION FaceFilter Studio 2.0 portrait-enhancement tools. You also get 100+ backgrounds, brushes, and textures. If you are upgrading from a previous version, the upgrade cost is $59.99 and $79.99 respectively. However, Corel has a lot of promotions as well as bundle discounts. I will list the various promotional deals on this page as I hear about them.