Best Digital Photo Editing Software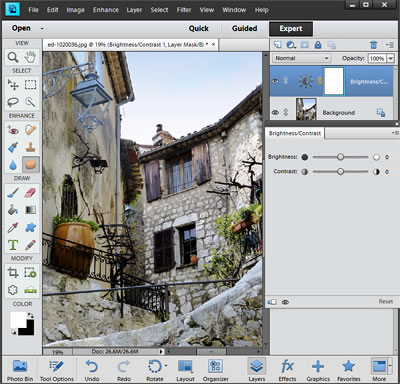 Best photo editing software
Photo Editing Software is critical for modifying and enhancing your digital photos to make them look their best.
A good graphics editor allows you to perform creative tasks such as correcting the color, lighting, tone and contrast, adding text or special effects, converting the image to a different format, making enhancements, creating original graphics, painting effects and much more.
If you take digital photos on a regular basis, a good image editor is a must, but what is the best photo editing software for your skill level and needs?
Click here for a side-by-side comparison of the best photo editors
If you are at the beginner to intermediate level, you will want a program that offers a range of editing tools, an intuitive interface and one that stresses ease-of-use. The best programs will have wizards, one-click presets, detailed tutorials and even on-screen tips to help you through common tasks such as adjusting the lighting, color and contrast.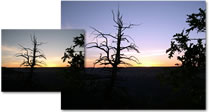 Ideally you want a program that offers flexibility so you can grow with it. You don't want to become frustrated when you've mastered the basics and want to do more with your photos and find your program doesn't have the advanced features you're looking for.
Features vs Ease of Use
The best photo editing software programs for beginner to intermediate users are Adobe Photoshop Elements and Corel Paintshop Pro. These image editors are great for digital imaging enthusiasts and amateur photographers. Both offer an array of wizards and templates to help you accomplish common tasks plus they have advanced features that give you more control and creative options as you become more accomplished using the software. These programs do a good job of balancing feature-rich tools with a reasonable learning curve.
Usually the more sophisticated the program the steeper the learning curve will be. Adobe Photoshop is the premier graphics software for professionals and serious amateurs. It does come with a high cost and intense learning curve, but it truly is the best photo editing software for pros or serious amateur photographers. For the rest of us, either Photoshop Elements or Corel Paintshop Pro are great, reasonably priced choices.
The best benefits of Photoshop Elements and Paintshop Pro are that they are affordable, flexible yet powerful all-in-one programs. They offer beginning to advanced editing features, lots of task automation, as well as integrated photo organizers so you can better manage your growing image collection. They both offer an array of creative projects enabling you to create web graphics and web pages and share your photos and projects in a variety of ways.
There's another program that you probably haven't heard of, Xara Photo and Graphic Designer. It is really worth a look. It features excellent editing and design tools, a user-friendly grad-and-drop interface and interactive tools. It creates web graphics and flash animation as well, at it's pretty easy to use. It only lacks a photo organizer.,
Best Photo Editor for Beginning to Intermediate Users
Adobe Photoshop Elements 11
PaintShop Pro X6 Creative Photo Editor
What to Look For Before You Buy
When looking for photo editing software, it is strongly recommended that you read lots of reviews to get an idea of what a certain program offers. Some considerations:
Is it fairly easy to use? Are there tutorials and wizards to help guide you through the most common editing or enhancing tasks?
Does it support layers and masks, two common features you will need if you want to edit or enhance portions of an image.
What kind of photo formats ( JPG, TIF, GIF, PDF, BMP, PICT, EPS are the most common) does it support? The best programs will support lots of file formats; the more the better. If you have a DSL camera, does it support RAW files?
What are the sharing capabilities -- can you adjust the size and resolution of the image so can you email a photo from within the program, create web galleries or upload to your favorite social networking site?
Does it offer templates to create projects like scrapbook pages or cards?
What kind of organizing capabilities does it have, is there a database for searching by keyword or rating?
What kind of backup and archiving options does it have? Some programs will automatically make a backup of your original image so you don't accidentally overwrite it when editing.
Finally, download one or two of the free trials offered by many of the major software publishers. This will give you a risk-free chance to take the potential program for a run-through to determine how it performs for you. You'll find the best photo editing software for you before you know it.
Click the links below for detailed reviews of the top photo editing software programs. Ratings are based on features, ease-of-use and value for the money. Click here for a side-by-side comparison of the best photo editors
Popular Photo Editing Software Programs
ACDSee Photo Editor does what other graphic software programs do but it cuts out a lot of steps to make it faster and easier for you...more »

Adobe Photoshop Offers powerful new capabilities for complex image selection, natural-looking painting, intelligent retouching and high dynamic range photography (HDR) plus useful upgrades to frequently-used tools...more»

Adobe Photoshop Elements For novice to intermediate/advanced photo enthusiasts, Adobe Photoshop Elements offers many of the same tools as the professional Photoshop software, with much greater ease-of-use, at a much more affordable price. »

Corel Paintshop Pro - A number of fun new features join the already-powerful editing tools in this latest upgrade. The new X5 remains an exciting, easy-to-use photo editor and »
Perfectly Clear Photoshop Plug-in - Instantly corrects images for 11 common problems in one click...more »
Roxio Creator 2012 - digital media software suite now with 3D - for creating, managing and enjoying digital images, videos and music...more»
Ulead PhotoImpact X3 is a strong all-in-one image editing suite packed with features that give you excellent value for the money. It is suitable for beginning photographers as well as advanced photography users, although there is a bit more of a learning curve than with some other photo editing software programs...more»

Xara Photo & Graphic Designer 7 is a super fast, inexpensive all-in-one image editor, vector-based illustrator and desktop publisher plus web graphics and animation. Highly recommended...more »