Adobe Photoshop CS5 Offers Powerful New Features
Adobe Photoshop ups its game. The latest version, CS5, offers powerful new capabilities for complex image selection, natural-looking painting, intelligent retouching and high dynamic range photography (HDR), as well as useful upgrades to frequently-used tools.
Key Features
Complex Selections Are Easier—Selecting complicated elements such as hair can be tricky and time-consuming. Now you can get more exact selections in less time and clicks and get rid of background color around selection edges. New refinement tools allow you to automatically vary selection edges and refine masks.
Content-Aware Fill—This nifty feature lets you remove any element and preserve the image's background. The Content-Aware Fill fills in the empty space with the images background. This innovative technology matches lighting and tone, so it appears as if the removed object was never there. It really does work; it is often quite amazing. However, it sometimes doesn't work entirely as expected and you may have to perform some touch ups. But it is a wonderful tool and a huge time saver.
Example of Content-Aware Fill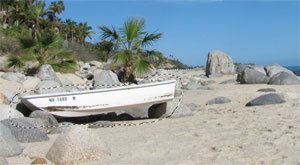 The boat in the top photo was removed and the space left behind is realistically filled.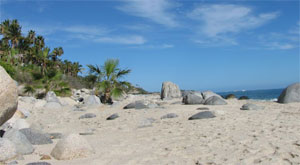 Innovative HDR Imaging— Automatic ghost removal and enhanced control over tone mapping and adjustments makes it easier to create and fine-tune photo-realistic or surreal high dynamic range (HDR) images.
Advanced Raw Image Processing—Photoshop CS5 offers expanded options for handling images before or after importing. More than 275 camera models are supported. The new integrated Adobe Photoshop Camera Raw 6 plug-in offers superior nondestructive editing for raw files, JPEG, TIFF and other file formats and removes image noise while maintaining excellent color and detail.
New Brushes and Bristle Tips for Amazing Painting Effects—The Mixer Brush, which offers on-canvas color blending, and Bristle Tips, enables users to attain natural and lifelike painting effects and brushstrokes.
3D Palette and Repoussé (Photoshop Extended only) adds 3D elements and the new Adobe Repoussé technology enables you to transform 2-D shapes, selections, photos and text into 3D extrusions.
The video below walks you through the new Content Aware Fill Feature
Should You Upgrade or Buy Photoshop CS5?
There is no question that Photoshop is the gold standard, and CS5 offers many useful enhancements from the previous version. The biggest issue is the cost. If you have Photoshop CS4 you may not find it mandatory to upgrade, but if you haven't upgraded in a while, this is a must for designers. If you are more of a newbie, Adobe Photoshop Elements, which offers many of the features in Photoshop, may be a better choice for you.
Photoshop Tutorials
Adobe has some excellent, easy-to-follow, free Photoshop CS 4 and CS5 tutorials on their Adobe TV Channel. Learn the basics as well as advanced features at Adobe TV Tutorials
Books About Photoshop CS5