Adobe Photoshop Elements 11 Boasts New Interface and Guided Editing
While not a major redesign, there are some welcome new features in Photoshop Elements 11
. A revamped interface –  lighter gray replaces the dark charcoal from before – makes everything brighter and larger text and bigger icons make it easier on the eyes.
There are still two main applications, the Organizer and the Editor; the latter is divided into Quick, Guided and Expert modes. New guided editing tools include Vignette and Tilt-Shift effect, and there are several new filters including Comic and Pen and Ink for a hand-drawn look.
Interface  
The aforementioned light gray background makes for a fresher overall look. The tool icons are now much bigger and  tool options like brush size have been moved to a  larger, easier to read panel at the bottom of screen. Panels now appear when clicked, they are not all crammed into the workspace in your way, and you also have the option to float them.
Editing
The Editor is divided into three distinct modes: Quick, Guided and Expert, which provides for a better workflow. The tools are also more intuitive with simple quick adjustments and wizards to guide you through more complex enhancements.
Quick Mode –  This is a basic mode offering easy corrections such as red eye, exposure,  levels and color adjustments, as well as text and healing. It's an appropriate option for the beginner yet it still offers you a good degree of control.
Guided Mode – There are wizards that walk you through enhancements and creative effects such as  depth of field.  Instead of being faced with a whole slew of tool options, you are presented with a series of general  categories such as Touchups, which include skin tone, color, scratch and blemish removal , etc.; Photo Effects such as Orton effect, depth of field, tilt-shift effect;  and Photo Play for pop art, reflection, picture stack and out of bounds. You choose a category and a wizard walks you through the entire process without you having to open a tool or menu option, create layers, masks, etc.  It's easy for beginners because it holds your hand through the procedure and it's a good way to learn without feeling overwhelmed.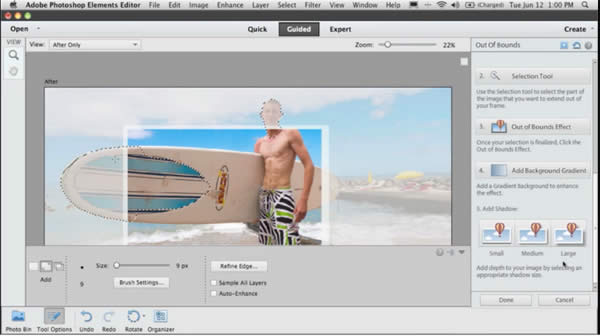 The Guided Edit Mode uses wizards to help you achieve complex effects, such as this Out of Bounds effect.
Expert  Mode – Here you can access most of the tools found in Photoshop where you can manually adjust, tweak and fine-tune to your heart's content. If you started with the Guided mode and everything seemed so simple as you were walked through the process, when you switch over to the Expert mode you will see all that has been going on "behind the scenes" – you'll see all the layers, masks, filters, etc. that were created in order to make those adjustments. Now you can fine-tune them if desired.
Although each mode acts independently, you can move between the editing modes with ease.
New Tools And Filters
There is a handful of new tools and filters. Comic effect is fun; that and the Graphic Novel and Pen and Ink filters create hand-drawn illustration effects. There is also a Lens Blur filter with a range of controls to create custom blur effects.
New guided editing tools include Vignette  and high key and low key effects, which work well, but the Tilt-shift effect is hit-and-miss. I've tried the same tool in Corel Paintshop Pro X5 and it worked much better.
The updated Refine Edge tool is perhaps the biggest feature. It allows you to refine areas the quick selection tool missed, such as isolating hair or leaves from a complex background. While this is a very powerful feature, it is harder to master than it looks and results are not always accurate.
Photoshop Elements 11 also supports Actions for the first time and it's easier to add presets.
While available since version 9 of Photoshop Elements, the fantastic Content Aware Fill must be mentioned. It is one of the main reasons to get this software (although a fuller-featured version is found in Photoshop). The software will examine an area of an image, say a sign or a garbage can, and intuitively fugure out how to best fill the spot with background. It works amazing well. Below is an excellent video that shows you how it works.
The Content-Aware Fill is a powerful feature in Photoshop Elements 9 and up and Photoshop CS5 and up. This video shows how it works in both software programs.
Organizer
The Organizer is for categorizing, curating, finding and printing your photos. It doesn't automatically locate your photos for cataloging, you have to manually select the files you want.  Elements 11 offers a variety of ways to sort and organize your photo collection. You can sort by media, people, places or events. It can find images via facial recognition, geo-tagging, and basic calendar search. Facial recognition is a popular technique, but it can be erratic; sometimes the application would ask me to identify objects instead of people.
The Places function uses  geo location data to pin images on a Google map or you can manually drag and drop photos onto a map if geo-data is not embedded in the image. Then you have the capability of sorting photos only taken in specific location.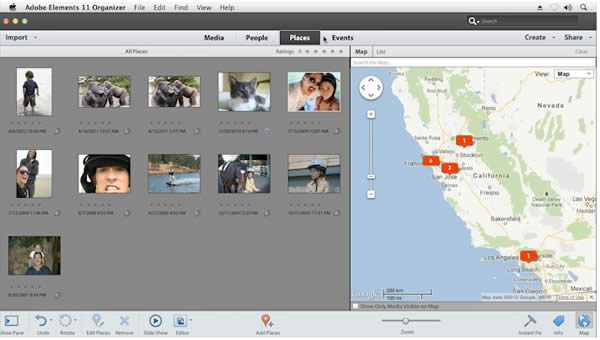 In the Organizer you can use Places to pin images to a Google Map.
Within the Organizer you can perform quick automatic edits but you do not have control over them.  However, you can easily transfer from the Organizer application to the Editor to perform more complex  fixes.
Sharing
Elements 11 offers integrated sharing on Facebook and Flickr, as well as Adobe's online service, but not on  Twitter.  You can also create photo books and calendars. There is a new photo collage editor plus some new templates.
Pros:
For photo enthusiasts it is still the best photo editing software around, although Corel Paintshop Pro comes in a close second. It offers around 90% of Photoshop's features at about 20% of the cost.
Cons:
The software is complex and may not be easy for beginners. If you are new, I recommend spending some time with tutorials and videos to familiarize yourself with the interface and tools. It's a little pricey if you are not planning to take full advantage of all its features.