ACDSee 14 Good Choice for Organizing and Editing
I have always been a fan of ACDSee because their photo software is easy to use and they have a great organizer. The company's new ACDSee 14, designed for beginning photo enthusiasts, combines their image editor and powerful organizer into one package with a number of new features and special effect tools and I must say I like it.
Organizing:
ACDSee has always excelled at managing and organizing. Browsing is very fast and you can access your folders live. ACDSee lets you work with images directly from their original locations, you don't have to import them. You can browse instant slide shows and view full-size previews.
You have a number of ways of managing your images. You can group and filter photos by camera information, edited state or other criteria, browse by date or event, create custom categories, add keywords, edit metadata and rate images.
I like the new Color Labeling which helps make visual tagging and organizing even faster. For example, you can color code all vacation photos green and all birthday photos blue and a thin color strip will appear below all photos of a particular color. This is helpful for tracking an image through the
various stages of multi-step workflows
Geo-tagging is another new feature. You can find, sort and group your images by location with the new Map view and geotagging feature. If you have a GPS-enabled camera (and not all of us do; I don't) you can view the location of images, add location info and zoom in on the map and select all the photos shot at a particular place.
There is a new metadata panel that offers custom views so you can see selected data only. ACDSee's powerful search engine enables you to find any photo. You can enter multiple-word keyword phrases like "italy vacation," find by created date and other camera info and more. There is also a Quick search bar.
Editing and Special Effects
ACDSee preserves your original image so if you make a mistake you can always go back to the original. The software has the traditional tools found in most image editing software such as healing and cloning tools, drawing tools and text writing. The red eye reduction tool lets you manually adjust the color and intensity, which lends a more realistic look.
Selective editing is one of my favorite tools. You can choose a specific part of an image and make adjustments such as exposure, color, or add a special effect just to that portion. The Lightening tool lightens shadows and reduces highlights with one click, but you can also choose to move the sliders to make manual adjustments. Similarly there are tools for tone, white balance, and color balance.
New Special Effects
There are also tools to add borders, raised edges, drop shadows and other edge treatments. There are 20 special effect filters that you can preview on your image before committing and you can adjust either a section of a photo or the whole image. New filters include:
Orton Effect - creates a somewhat surreal image in which a photo features a blend of high and low detail areas which can be an interesting effect for portraits and landscapes.
Lomo Effect - gives an image a high contrast, pronounced vignette and unusual colors. This imitates the effect of a lomo camera and it can create quite interesting images in one simple step.
Collage - create collages in polaroid-style white bordered frames. Personally I find this rather gimmicky and you may only use it once or twice.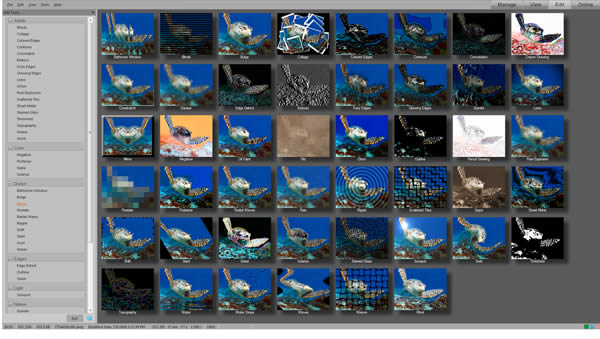 You can view RAW files and convert them to other formats including JPEG, TIFF and PNG. To develop the RAW image you would need ACDSee Pro 5. Advanced users can create complex designs in ACDSee's object-based environment using selection tools, gradients, masks, blending modes, and vector object support.
Sharing
You can design scrapbook pages, calendars, greetings cards, postcards, CD covers, invitations, screensavers, slide shows, PDFs and more with step-by-step guides assisting you along the way. ACDSee also enables you to share via social media. You can email photo albums, post albums on Facebook, and Tweet links to your photos. ACDSee gives you a free online account where you can create public or private albums for sharing with those you choose.