Roxio Creator 2012 Multimedia Software: 1-Stop Media Suite
Roxio Creator 2012
(list price $99.99) is a popular multimedia suite for capturing, enhancing, managing, sharing and enjoying digital images, videos and music. The prior version, added the ability to turn 2D images and videos into 3D. New features in this latest release add new visual video effects and new conversion tools for iPad and iPhone and DivX video.
Highlights
This really is a one-stop media suite. The sheer number of features and utilities can be overwhelming, but there are many useful features. In a nutshell they include:
• Enhance, capture, and share your digital media
• Edit videos and create DVDs
• Convert 2D photos and videos to 3D
• Enhance and edit photos and create projects such as cards, calendars and slide shows
• Rip music and convert audio files to most popular formats
• Burn and copy CDs, single and double-layer DVDs and Blu-ray Discs(with a plug-in for the latter)
• Share on DVD, portable devices such as iPod, YouTube™ or Facebook®
Features
Creator 12 offers a suite of tools for editing and preparing audio, video and data files and burning to disk. The Creator Suite consists of several separate apps but they have a consistent feel.The software was rather slow to install because the file is so large, but upon completion I was presented with an attractive home screen with icons for Creator's main tasks.
Edit and Create 3D DVDs and Photos
The newest and neatest feature is the ability to edit in 3D and create standard and hi-def 3D movies from 2D and 3D videos, and convert 2D photos to 3D.
3D Photos
You can create 3D pictures from photos taken from a regular camera. The result is a quite amazing 3D effect. To create a 3D photo, under File > New Project > Create 3D Photos. From here the process is quite straightforward and Roxio offers step-by-step directions. You'll get an option to open a 2D image and it will automatically convert to 3D, or you can "Choose an image for both the left and right eye" and you can choose two photos to create the feeling of depth.Just don the handy oldfangled red and blue glasses Roxio supplies and you can see the effect. Roxio lets you adjust the level of 3D effect in the event you see little difference or too much effect.
3D Video
The conversion process is also fairly simple. From "Create DVD" on the main screen, you can select from a variety of projects. After choosing DVD - 3D, import a video clip and Roxio converts it to 3D in seconds. Once thing I noticed, though, is the 3D washes out the color somewhat. This happened with the photos as well.
Creator can trans code 2D media to anaglyph 3D, RealD, and Real 3D and can import 3D files taken in standard 3D format. The 3D is a novelty, but it won't really look like a 3D Hollywood movie if you are converting video from a standard video camera. The application supports emerging 3D formats, including those used in popular 3D theatrical film releases, as well as 3D-enabled capture devices, computers, HDTVs, and accessories. Roxio includes the old-style red and blue filter glasses but you can buy a pair of anaglyph glasses for $9.99. Personally the 3D effect makes me nauseous after looking at it for a few minutes, but it is pretty cool.
Other Video Features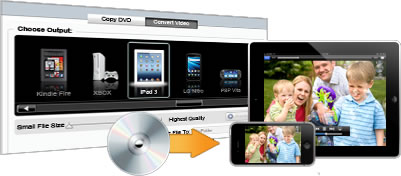 Creator will edit standard and HD videos. The software will let you add special effects such as picture-in-picture, titles and scrolling credits. You can create Hollywood-style DVD's with custom menus styles, animated themed and music. New for 2012 is visual effects such as fire, fog, storm, rainfall, smoke, fireworks or fairy dust (although I am not sure why you would want the latter one).
The supported ATI Stream enables users to render and encode video faster and the new Roxio Streamer enables users to access and share videos on their PC from virtually anywhere. Users can save YouTube videos and convert them to play on TV, iPhone, iPad and other devices. One of the features I love is the ability to archive your TiVo shows to DVD and Blue-Ray and remove commercials, convert for playing on your iPad. New for Media 2012 is the ability to convert video for iPad, iPhone and Android devices and create and play movies on DivX devices such as PlayStation 3, DVD players, and mobile phones.
Music and Audio Features
You can edit and manage photos, capture and enhance photos taken with your cell phone, capture and edit HD videos and write them to HD DVD and Blu-ray discs, and even upload them to YouTube with one click. You can also back up your photos, video, music and data. Creator can catalog your CDs and their content, even when the disc is no longer in the drive.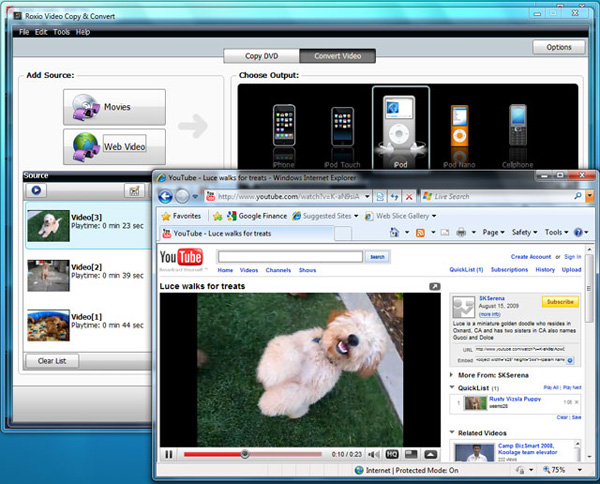 Photos
The photo application is quite good. It has robust features for editing and organizing images, although it's not as good as Photoshop Elements. In addition to the usual editing functions you can crop/resize photos for mobile screens and the Mobile Photo Doctor automatically correct camera phone photos. There are wizards to walk you through typical tasks. FaceFilter Studio 2 is a set of new portrait tools to enhance portraits.
Other Features
Mobile Capabilities - Creator's Media Manager allows users to synchronize media between their desktop and mobile devices such as iPods, Microsoft Zunes and Blackberrys.
Audio - One of the most impressive tools is the Batch Audio Converter which will convert popular audio files such as MP3 or WMA into a single designated format. The Multi-CD Ripper allows users to quickly copy their entire CD collection to their PC. Creator 2010's audio capabilities are enhanced with an AutoMix feature to dynamically generate a playlist that can be burned to CD or sent to a portable player.
Video - the editing tools are easy to use and there are wizards to help you through tasks like synching the media between devices. In addition to 32-track timeline, timeline markers, and batch video-segment removal, there are automated tools to color-correct or remove background noise and you can add soundtracks with SmartSound. Just select your desired music and it will be automatically added and adjusted to fit the length of the video.
Should You Buy Roxio Creator 2012?
Creator 2012 is one-stop software for the average user and has loads of features, giving you excellent value for the money. Many people will want this software for the 3D capabilities. Even if you are not into the 3D craze, chances are, the casual user will find an application within the suite to fit their project's needs, from photo to video to audio. This software is meant for digital enthusiasts, not pros, so as long as you don't expect Photoshop or Final Cut capabilities, you should be very happy with this media suite.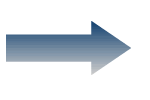 Buy Creator
Roxio's Creator - Click here to download now
Other Roxio Products
Roxio makes an outstanding array of products for the digital world. Here are highlights of their most popular products for camera, video, music/audio enthusiasts -- including iPhone users!
Roxio Toast 11 Titanium - For Mac OS, disc burning and copying, web audio capture, watch video, movies and TV shows anywhere, convert media for iPhone, iPod, Apple TV and more.
Roxio Game Capture - Capture, Edit, and Share your Xbox 360 & PS3 Gameplay
MyDVD VideroLab HD - Imports movies from camcorders and digital cameras, edits, customizes photo calendars, greeting cards, etc., creates slide shows, burns movies and slide shows
Roxio's RecordNow 10 Music Lab Premier - Converts old music LPs and cassette tapes, creates playlists for any occasion, uses collection as ringtones, rips and converts music, transfers playlists, streams music .
Easy VHS to DVD 3 Plus (PC)- Allows You to Create DVD movies from your VHS tapes and Hi8 or V8 home videos