Xara Photo & Graphic Designer Software Offers Exceptional Editing and Design Tools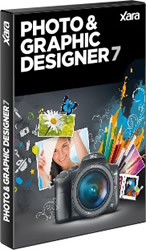 If you are looking for a cost-effective, comprehensive photo editing and graphic design software program with strong tools for bitmap and vector graphics, web and flash animation and even desktop publishing, Xara Photo & Graphic Designer
could be your answer. Definitely, for the price tag of about $89, it is one you should strongly consider. Xara is not as widely known and therefore many people probably give it a pass and go for one of the big name products. This is too bad, because it has a lot to offer.
Besides offering a wide array of exceptional editing and design tools, other pluses are its user-friendly interface and interactive tools. The interface is uncluttered and uses easy drag and drop functionality. While you still have to know your way around a computer, the software is easy to learn, unlike programs such as Photoshop or Illustrator which both have extensive learning curves. The only thing it lacks is a photo organizer.
Photo Editing
Lets start with the image editor. Xara is powerful, lightening fast and responsive and because it offers lossless vector-based photo editing, it produces files that can be much smaller than in other programs. It is object oriented, which means non-destructive photo editing (so you can edit an image multiple times without loss of quality) and it uses a much lower RAM than most other photo software. There is RAW support for close to 300 popular camera models.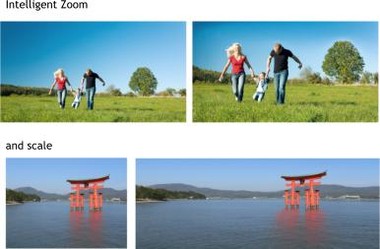 It has all of the standard editing tools you would expect, such as tools for adjusting the contrast, saturation, red-eye reduction, cloning, sharpening, special effects filters etc. and you can view the results in real time.
One of my favorite features is the ability to work on a portion of an image. For instance, you can edit just a section of an image, i.e. brighten a shadowy area or change the focus.
It also offers some special tools including one-click panorama making and content-aware scaling, which lets you re-size a photo while maintaining the proportions of the major content. Common uses of this tool might include stretching or shrinking an image without changing the size of the people in the photo.
Another useful tool is the Magic Photo Eraser that allows you to remove unwanted objects from photos by cloning areas of the background and filling them in. While not perfect (especially on something with a straight path) it worked reasonably well and functions similarly to the tool in Photoshop CS5.
Drawing - Vector Graphics
Xara is mainly a program for working in scalable vector graphics, which are graphics that can be resized up or down without losing quality. This is where it really shines. You can build complex designs and scale them down or up, from small to as big as you want and maintain the same quality.
Desktop Publishing
While it is not design software on the level of Indesign, Xara handles text quite well. It has the ability to flow text across multiple text boxes on different pages, you can set objects to repeat on all pages and set horizontal and vertical borders between text and graphics. You can edit inside groups and other composite objects without unlinking the objects, create anchored objects with one click, and cut copy and paste whole pages within and between documents including their attributes and layers. The improved Snap to Objects tool makes positioning and alignment of items on the page much easier.
There is a series of well-designed templates for greetings cards,calendars, business stationery, CD/DVD covers, photo galleries and more.
Web Graphics and Publishing
Web animation is fairly basic but good for banner ads and the like. It includes image slicing, image maps, exporting and optimizing, widget support and Dreamweaver integration. Xara exports GIF and Adobe Flash web animations and you can also export AVI video with a transparent background, but only for uncompressed AVIs (which means large file sizes). Web templates and a photo gallery are also available.
If you expect to spend a lot of time designing, you may want to consider the Xara Photo & Graphic Designer Pro 7 version (approx $299) which contains all the above features plus advanced web design features and tools for designers such as PANTONE®,  CMYK colors, color separations and PDF/X.
Resources for Buying Xara Photo & Graphic Designer
Buy Xara Photo & Graphic Designer