Rescuing Photos with Poor Exposure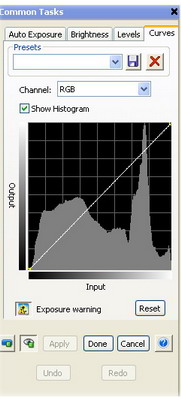 There are several tools for adjustusting exposure
One of the common problems people have with photos is exposure. I've done this myself: I have the camera set for indoor photos and then forget to change the setting to take some photos outside in bright light, or I take an outdoor shot without using fill flash and the faces of my subjects are shadowed.
What if you have a one-of-a-kind shot of a family gathering or of your children at the beach, but it is badly exposed? Before you press that delete button, consider how you can rescue the shot. The"auto exposure" tool usually does it for minor corrections, but if you have a really tough photo you need to go a step further.
Most good photo editing programs (like ACDSee and Photoshop Elements) offer the ability to make manual adjustments to the exposure "curves" tool.
In your editing software, select the curves tool and click and drag the exposure grid until you are happy with the results. See photo at right.


When using the curves tool, some programs will give you an exposure warning and will show areas that become too dark or too light. You may have to allow for some shadow detail to be lost or some highlights to be a bit overblown in order to get the best exposure on the most important parts of the picture.


Don't be afraid with experimenting with this tool, or any other of the editing tools. If you don't like the results you can always revert back to the original, which you backed up :)