Create Customized Photo Gifts Online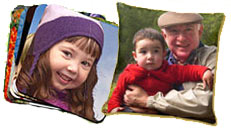 Whether it's for the Christmas holidays, a birthday, a new baby or just for fun, you can create an amazing array of personalized gifts on line using your own photos. Gifts include calendars, photo books, mugs, canvas prints, posters, apparel, t-shirts, aprons, dog dishes, dog collars, blankets, tote bags, purses, cosmetic bags, vases, teddy bears, note cards, puzzles, coasters, ties, keepsake boxes, mouse pads, playing cards, magnets, desk organizers, luggage tags, and practically anything you can think of.
Photo gifts are easy to create. Just upload your favorite photos to one of the online photo sites (most popular are Shutterfly
and Snapfish), select your gift item and your photo(s), preview your creation and add it to your cart.
Photo Books
Photo Books make great gifts. They are easy to make and available in a wide variety of sizes from pocket size, to mini 8x8 books, 8x10 and 12x12 books. Covers can be customized in a range of styles and colors including hardcover, soft cover, linen, leather, case wrap and other options. Photo books are easy to create. Just upload your photos, select your photo book style, drop in your photos, and add backgrounds and text if desired. My favorite site for creating photo books is Shutterfly for its range of styles and easy creation. They also have great sales. If you are more experienced, Viovio is outstanding for their range of photo book sizes and styles and you can create your pages in your own design program and then upload them. Mixbook is tops for customization with its ultra-flexible photo book editor.
Photo Calendars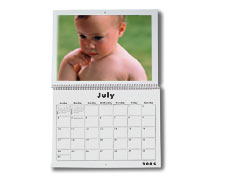 Photo calendars are the gift that keeps on giving for a full 12 months -- or even 18 months if you create an 18-month calendar. They are inexpensive and personalized with your own photos. Just upload your favorite pictures to an online photo service such as Shutterfly or Mixbook (my new favorite for calendars), then drag images onto your calendar pages. You can choose from a variety of backgrounds and add text to each page. Some services even let you add custom dates such as birthdays and anniversaries to calendar pages. For around $20 a photo calendar makes an excellent gift for anyone, from kids to grandparents. Learn more about photo calendars.
Personalized Christmas / Holiday Ornaments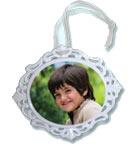 Customized ornaments are a popular item for the holidays. Several online sites including Snapfish and Shutterfly let you create your own personalized holiday ornament with a photo from your own collection embedded into a high quality pewter frame or printed right on a porcelain frame.