Shutterfly.com Photo Books Offer Great Themes and Customization
Overview
Shutterfly has added a new Custom Path to its photo book creation options. This allows you to add, move and resize pictures and text at will plus there are new styles, backgrounds and embellishments. I've been trying it out on a photo book I'm making with my Maui vacation photos and I love having more creative control! These photo books make your book look more like a digital scrapbook, plus it's easy to use a photo as a background, and you can custom fade it. You can have 1-25 pictures per page with five photo books sizes starting at $12.99.
Shutterfly is a great resource for stylish, creative and elegant photo books. I've ordered several books from Shutterfly and was not disappointed. I love creating photo books with them because they make it so easy and there is such a nice variety of templates, backgrounds, colors and fonts to choose from. The books are competitively priced and Shutterfly frequently offers discounts. I've taken advantage of free shipping, 20-30% discounts and buy 1 get one free offers, for example.
This review covers Shutterfly's photo book size and cover options, paper, design software, templates and creative options, and the process for creating your photo book.
Photo Book Sizes and Cover Options
Photo books are offered in seven sizes.
The 5x7 and 7x9 photo books are with a soft photo cover, which is popular with people wanting to make multiple copies of their digital scrapbooks.


The 8x8 is available in soft photo cover, hard photo cover, padded photo cover or leather with a die-cut window.


The 8x11 can be customized with a hard or padded photo cover, a fabric hard cover in suede, satin, or cloth with a die-cut window, or leather hard cover with die-cut window in a choice of colors.


NEW 10x10 size - available in Custom Path only. Soft and hard cover with image wrap, padded photo cover or cloth or leather cover with die-cut window.


NEW 11x14 - really nice size for travel books, weddings, portfolios and special occasions. Hard cover with image wrap, padded photo cover or cloth or leather cover with die-cut window. Not offered in soft cover. Available in Custom path only.


The largest book is 12x12 and is available in hard photo cover, padded photo cover or leather hard cover with die-cut window. Leather books are available in Navy, Green, Brown, Black, White and Red leather. With padded and hard cover photo covers you can personalize the front and back with your own images and add text to the spine.


Lay Flat Pages - There are new premium books with pages that lay flat. They are printed on double-thick, professional-grade paper with a satin finish and are available in 8x8, 8x11, 10x10, 11x14 and 12x12 with leather covers with stitched edges, padded photo cover and hard photo cover. These are ideal for wedding albums and other special occasions. You can also order lay flat pages on a regular book as an upgrade, via the Custom Path. It's an extra cost of $25-50, depending on the size of the book. I've got a very detailed post about lay flat photo books where you can read more about Shutterfly's lay flat options.
New Matte Finish Hardcovers
New in May 2013 - You now have the option of printing your hardcover book with a matte finish on the cover. For an 8x8 or 8x11 book the upgrade cost is $5.00; for 12x12 it is $10. I tried it when I reprinted a book that featured a group of people on the cover. In comparison with the original book with a glossy hardcover, I prefer the glossy finish because colors tend to be more muted. It may just take some getting used to, although I do like that is is glare-free. It might be interesting to try for baby or wedding photos, but on my next book I will probably stick with the original glossy cover.
For more information and descriptions of photo book covers, see this article.
Photo Book Prices
| | | | | | |
| --- | --- | --- | --- | --- | --- |
| Size | Soft cover | Hard cover | Padded Cover | Fabric Hard Cover (only available in Custom Path)* | Leather Hard Cover (only available in Custom path) |
| 5x7 | $12.99 | n/a | n/a | n/a | n/a |
| 7x9 | $15.99 | n/a | n/a | n/a | n/a |
| 8x8 | $19.99 | $29.99 | $34.99 | $34.99 | $39.99 |
| 8x11 | $24.99 | $39.99 | $44.99 | $44.99 | $49.99 |
| 10x10 | $29.99 | $44.99 | $54.99 | $54.99 | $59.99 |
| 12x12 | n/a | $59.99 | $69.99 | $69.99 | $74.99 |
| 11x14 | n/a | $69.99 | $84.99 | $84.99 | $89.99 |
Prices as of August 2013, based on a 20-page book. Lay Flat pages cost an extra $25-$40 depending on book size. Additional pages range from $.50 to $1.50 depending on cover and size. Shipping is extra.
* Fabric covers available in satin, suede and cloth
Photo Book Paper
Shutterfly uses acid-free, glossy paper stock. Their exclusive VividPics® technology automatically adjusts your photos for color. For a comparison of the types of paper offered by the top photo sites, see this photo book paper comparison chart.
Photo Book Styles, Templates, Backgrounds and Layouts
You can upload your own digital scrapbook layouts as jpeg files and then drag and drop them into photo book pages. There is also a huge collection of photo book page styles, layouts, backgrounds and embellishments. These include baby, wedding, travel, kids, seasonal, Halloween, Christmas, Valentine's Day, Mother's and Father's Day, pets, sports and more, plus patterns, stripes, dots and solids. There are also pre-designed idea pages for inspiration and you can drag and drop your photos into these layouts and customize if you wish.
You can select different photo edge styles and use different backgrounds for each page if desired. Captions and text may be added in a variety of fonts, sizes and colors. The new Custom Path option lets you move or resize anything on the page. Pictures can be arranged from 1 to 5+ per page and you can have a page with text only. There is a story board tool that will help you organize your photos before you make your book or to reorganize your book pages. There is universal text editing so you don't have to go in and change the font on each page individually, and there is both vertical and horizontal alignment. You can do some pretty cool things!
Photo Book Creation
Simple Path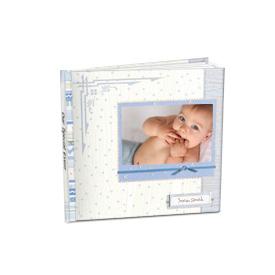 Shutterfly offers two ways to create your photo book and both are easy. Pick a photo book size and template and upload your photos, and the new Simple Path automatically arranges your photos chronologically in a format that best suits the images. There are 20+ different templates and you can use 1-4 pictures per page. There are photo book templates for weddings, baby books, travel, kids, holidays, etc. You can print it as-is, or you have the option of changing the style, arranging pictures and personalizing it with captions. If you change your mind, you can convert from one size book to another (I love that). One caution, though. Make sure you edit your photos beforehand, because Simple path doesn't allow editing.
Custom Path
If you want more flexibility select the Custom Path option where you can have from one to 16 photos per page. You photo book can be completely customized with a wide assortment of backgrounds, layouts, photo edges, and captions with a personalized cover or die-cut window. You can convert to a different size template, within the same shape, i.e. square or rectangle. While Shutterfly offers wonderful flexibility, Mixbook offers yet more, with the ability to move, re-arrange and add or delete absolutely everything on the page.
This video below will give you an idea of how the Custom Path works.
I like creating photo books with Shutterfly because they make the process so easy and there are a multitude of design options, more than all the other major online photo services. You can rearrange your pages, edit images right there in the photo book mode, change backgrounds and preview your book. Shutterfly offers frequent discounts on photo books and free shipping offers, making photo books a great alternative to ordering prints and manually putting them into a separate album.