Photo Book Cover Styles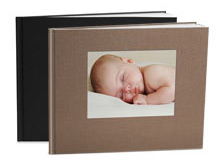 Photo Books come in a large assortment of of sizes, styles and prices. When ordering a photo book, you can choose from arrange of cover styles, including hardbound, softcover, classic leather or linen cover, and even dust jackets.
Here are descriptions of some of the most popular cover styles.
Hardcover are elegant and sturdy bound books, perfect as high quality coffee table books, wedding photo books, and almost any occasion. The covers are usually constructed from image-wrap boards, they have a spine what you can usually add a title to, and the covers are laminated for protection. You can usually add text to the cover.
Die-Cut Covers are generally hardcover books with a window in the front with an image that you designate showing through.
Linen Covers are cloth covers available in a range of colors. Some online digital photo companies offer die-cut linen covers with your photo peeking through the opening.

Leather Covers give the feel of traditional photo albums and are most often used for wedding photos and other special occasions such as an anniversary. Leather covers are usually available in a variety of colors. These are premium, high quality books and tend to be more expensive.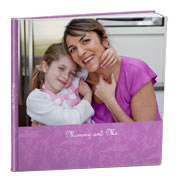 Softcover Photo Books are more casual and tend to be cheaper priced. They are bound in sturdy laminated paper covers. These are less expensive photo books that are ideal for every day photos. They would also be great for party favors, shower gifts, or brag books.
Fabric Covers are a classic option for memento books. Some typically choices are velvet and premium linen. Sometime fabric covers are available padded.

Dust Jackets are hard back (hardcover) books with custom printed paper covers that allow you to add photos and captions to the front and back covers of the dust jacket as well as the inside flaps. These are terrific for weddings, milestone birthdays and travel photos.
Mini Photo Books and Flip Books are small photo books popular for baby pictures and photos of kids because they are easy to take along with you to show them off. They have soft covers. Typically Flip Books are 4"x6" or 5"x7" and mini books are around 2" x 3". These are usually the cheapest priced books available.

Spiral bound books are casual books that make great portable photo albums. These are often the style used for flip books, but they are sometimes available in larger sizes as well.