Photo Book Service Reviews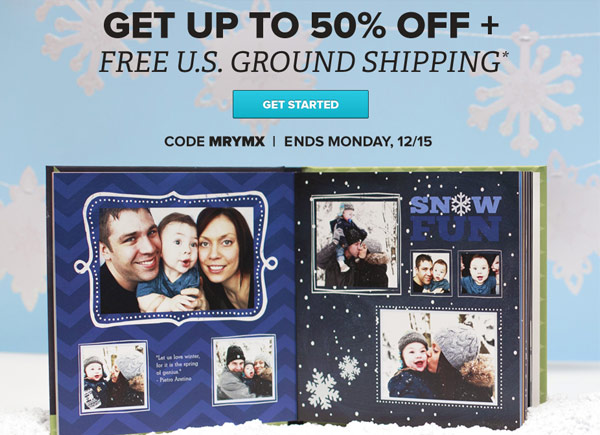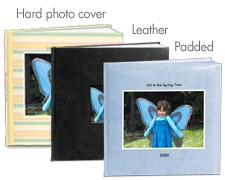 With a huge selection of options from hardcover or soft cover to magazine-style or classic leather or linen cover, Photo Books come in dozens of sizes, styles and prices to suite a variety of purposes. What a great way to display your digital scrapbook, wedding photos, sports group photos, baby pics, vacation photos or other special occasion pictures. Personally, I love them and will never go back to sticking individual photos into albums. Instead of getting individual prints made then spending hours manually inserting them into a photobook or cutting and pasting a scrapbook, a digitally prepared photo book is the way to go.
Photo Book Company Comparisons
I tried out a variety of photo book sites and found several that stood out from the crowd. All companies reviewed produce high quality photo books on acid-free archival paper with a variety of cover choices from hardcover casewrap to leather and linen. Below is a chart featuring major photo book services listing major features and ratings. Individual detailed reviews of each service are also available by clicking on the Review links.
Photo Book Services Reviews

COMPANY

READ REVIEW
Shutterfly Review
Mixbook Review
Viovio Review
Picaboo Review
My Publisher
Review
Blurb Review
Snapfish Review
Smilebooks Review
My Memories Review

Rating

(out of 5)

Quality

4.5

4.5

4.5

4.5

4.5

4.5

4

4

4.5

Ease of Use

5

5

3

4

4.5

5

4

4.5

4

Features

4.5

5

5

4

4

4.5

4

4

3.5

Book Options

5

5

5

4.5

4

3

4

4

4

Customer Support

4.5

4

4

5

4.5

4.5

4

4

4

Price 20 page 8x11 hardcover

$34.99

$29.99

$31.99

$29.99

$39.95
26 pages

$29.99

Promo Discounts

PHOTO FINISH OPTIONS

Glossy

Matte

Digital Silk Paper

White Borders

Acid-free archival
paper

Extra thick/Heavy
Paper

66, 100, 110lb

115-180lb

140 lb

135lb

Lay Flat Pages

SIZES

5x7, 7x9
8x8, 10x10, 8x11,
12x12, 11x14

6x4 8x6, 8.5x8.5, 8.5x11, 11x8.5, 12x12, 14x11

2.5x3.75, 3.5x3.5, 5x5, 5.25x3.5,
5.5x3.5, 5x7,
6x9,7x9, 7.75x5.75,
8.5x8.5, 8.5x11
9x7, 10x10,
11.5x8.5, 12x12,
12.5x10, 14x11

6x8, 8x8, 8.5x11, 12x12, 11x14

7.75x5.75
11.25 x 8.75,
15x11.5


7x7, 8x10, 11x13, 12x12

2x3, 4x6,
5x7,
8x8, 8x11,12x12

5.5x5, 8x8,
8x11 , 12x12, 16.5x12, 11x14

6x6, 8x8
8.5x11,
11x8.5,
12x12

COVER STYLES

Casewrap

Leather

Linen

Velvet

Soft cover

Hardcover

Spiralbound

Cover picture
window

Removable Dust
Jacket

FEATURES

Custom Layouts

Web Software

Free software
download

Templates

Choice of Background Colors

Text-only layout

Full Bleed layout

Use Photo as background

minimum pages

20

20

none

20

20

20

20

26

26

free photo album sharing

Photo organizing

hi res uploads

photo gifts

SHIPPING

Ave. processing time

3-5 bus. days

3-5 bus. days

4-14 days

3-4 bus days

2-4 bus days

5-6 bus. days

3-5 bus. days

2-7 bus. days

min. 7 days

In-store pickup

Overnight delivery

2-day Delivery

Canada delivery

international delivery

*

CUSTOMER SERVICE

Satisfaction guarantee

free reprint

free reprint

phone support

email support

online chat

FAQ

online user guide

user forum

Password
protected

VISIT SITE
Shutterfly
I use Shutterfly a lot for my photo books. Of the mainstream online photo services I found that Shutterfly is tops for its ease-of-use, enormous variety of page styles and backgrounds, frequent discounts and fast service. Choose from a huge selection of themes including baby, wedding, travel, kids, seasonal, Halloween, Christmas, Valentine's Day, Mother's and Father's Day, pets, sports and more, plus patterns, stripes, dots and solids. You can select different photo edge styles and use different backgrounds for each page, plus add captions and text in a range of fonts, sizes and colors. You can even have a page with text only. Shutterfly also gives you the option of uploading jpegs of pages you created with your own software (such as Photoshop Elements) and placing them into photo books. Read Shutterfly Photo Book Review »
Mixbook
Mixbook is a free online service for creating and sharing personalized photo books. Users can share their books on the web free and/or order them for printing. Mixbook offers a unique collaborative scrapbook editor which allows friends or groups of people to build a book together. Another unique aspect is Mixbook's highly customizable features seldom offered by other photo book services. You can insert your own text boxes, change the size of photos and even the page layouts. This is a very hard-to-find feature and another reason why Mixbook is so great. Read Mixbook Photo Book Review »
Viovio
For sheer variety of photo book sizes and creative options (you have the option to upload PDF's of photo pages you created with your own software package) and especially price, Viovio shines. Their books are professional quality. Viovio also has a great online community for sharing and selling your creations. Read Viovio Photo Book Review »
Picaboo
From traditional hardcover and softcover books on up to high end weddling albums with flush mounts, real leather covers and silver halide pringing, Picaboo offers a great feature set and product line. Read my review »
My Memories Suite
My Memories Suite is an easy-to-use photo album software program for creating photo books, scrapbooks, DVD slideshows and greeting cards. Cross platform - works on PC and MAC. The standard suite includes a set of themed designer templates on separate discs - Holiday Designer, Travel & Wedding Designer, Family Times and Kids & Sports. The deluxe package also includes a large, hardbound personalized photobook (up to 26 pages) and four personalized greeting cards. You create your photo book on your computer then upload it to the web site to place your order. Read review of My Memories Suite Photo Book & Scrapbooking Software »
Blurb
Blurb is a self-publisher with both online tools and free downloadable software for creating customized books as well as options for pros. They have an excellent selection of paper options from standard to premium, heavier paper and a pro line. You can create custom templates and reuse them in other books, convert your book to an e-book for iPad, and even sell your book online using Blurb's bookseller interface. Read my Blurb review here »
SmileBooks
I found one of the easiest sites to use was SmileBooks. After downloading their free software I could customize my photo book, which resides on my hard drive. Their templates are completely customizable to move and resize. Plus, Smilebooks has an interesting collection of page backgrounds with real photographs. You can even use your own images as page backgrounds. Smilebooks also has the thickest paper of the sites I visited: 135lb compared to a standard 100lb. Read Review of SmileBooks Photo Books »
If you feel creatively challenged, SmileBooks is offering a new Design Service. You just have to select the photos and your photo book size and style, and their creative team will design your book for you. It only costs $0.95 per page for the service plus the cost of your book. Review of SmileBook Design Service »