Making a Blurb Photo Book: My Personal Review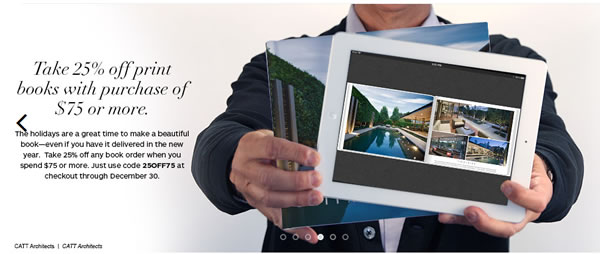 Overview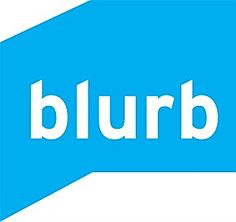 Blurb is a little different from the standard photo book companies. It  has free book-making tools for everyone from the beginner to pro level;  you can make one book for your own use or self-publish and sell it on their book seller platform.  You can either create it using their online editor or download their software (PC or Mac) to your own computer. What I like about Blurb is the flexibility it offers, from the range of tools to cover styles and paper choices. The quality is very nice and you can create your own personal coffee table book for a reasonable price. Blurb books can be made for all occasions from chronicling the family vacation, to creating an elegant, professional quality wedding album portfolio or publishing and selling your own book. Instead of relying on lots of fancy backgrounds and embellishments, template designs focus on photos and text.
What Makes Blurb Unique
You can create and save your own custom templates for future use.
Books can have as many as 400 pages! Other companies usual max out at 100-200 pages.
You can upload photos from Facebook, Flickr, Photobucket and Picasa as well as from your computer.
There are choices of standard, premium and pro level paper in a variety of finishes.
The company used 4-color printing like books in bookstores.
There are self publishing tools - You can sell your creation online via their online bookstore.
Blurb's design interface is embedded in Adobe Lightroom 4 and 5 and there's an Adobe Indesign plugin for pros.
Books can be converted to ebook for iPad.
Photo Software Options – From Instant Books to Full Creative Control
There are several ways to create your book depending on your experience level:
Bookify™ Online – This online design tool is great for beginners because you just need to choose from one of six pre-designed templates, upload your photos and voila! your book will be created automatically. Alas, that can also be a limitation for control freaks. There are also templates for Facebook and Instagram photos.
Blurb Booksmart® – This is my favorite option. It's a free software download that gives you full control over customizing your book and it's very easy to use. You can either use the provided layouts or create your own custom layouts that you can save for future projects. The software is well laid out with lots of page layout options and there are trim and safe guidelines so you can make sure nothing important will get cropped off when printing. You can download Booksmart here.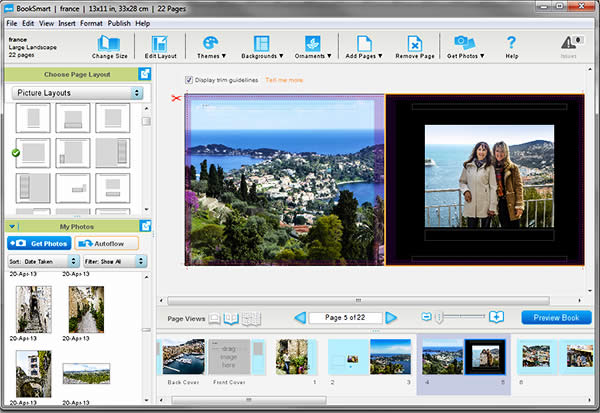 The Booksmart editor offers total customization and flexibility on how you view your pages and images.
The software allows you to create two-page spreads and to use a photo as a background, but surprisingly, there is no capability for changing the opacity of an image. You would need to do this in other software such as Photoshop Elements before you import the image. One nice features is that if you change your mind, you can change to a different book size after you started. The  software will copy your pages into a new layout.
Themes - When you start a new book in Booksmart you're presenting with a range of types including photo book, recipe book, yearbook, wedding, guest book, portfolio, and text only.  You can also make planners and notebooks and convert your book to an ebook for your ipad.
Unlike companies such as Snapfish or Shutterfly, Blurb does not have a giant collection of themed templates and embellishments for events or holidays. There is a small collection of "ornaments" and background patterns within the umbrella themes I listed above and there is a color dropper to make any color of background you want. If you are looking for a full array of digital scrapbooking embellishments and backgrounds, this is probably not the photo service for you; Mixbook or Shutterfly would be a better choice.  However, Blurb offers superb creative control for layout and fonts and you can create complex designs.
Blurb for Professionals – There is a free Adobe Indesign plugin that you can install that will give you full typographical and layout control using your Indesign software and CMYK color space. You can upload your page layouts from within Indesign. The software is also embedded in Lightroom so you can build and upload without ever leaving the program.
Paper
There are lots of options here:
Standard 80# paper with a smooth semi-matte finish.
Premium Lustre 100# - has a very faint gloss and is 35% heavier than standard paper.
Premium Matte 100# - no gloss, 35% heavier than standard paper.
ProLine Pearl Photo 140# - slightly more gloss than Premium Lustre with pearlescent finish and a nice weight to it. This paper renders contrast well in color and B&W and is high quality.
ProLine Uncoated 100# - matte with low contrast and probably not the best choice for color.
If you are unsure about which paper to use or you are printing a fine art book, you can order a paper swatch kit. It includes end papers and sample color and b&w prints on each type of paper so you can compare weight, finish, color, and saturation.
Book Sizes and Cover Styles
There are numerous sizes, but I find some of them are rather odd. I was disappointed that there wasn't an 11x8.5 landscape like most other companies; you have 10x8 or have to jump to 13x11 large landscape. They have a 7x7 square book instead of the typical 8x8 and having made numerous 8x8 books in the past, that's as small as I want to get.
The softcover has a glossy finish, as does the dust jacket. The imagewrap hardcover has a matte finish. If you go with the dust jacket, there is also an option for a linen cover underneath the jacket.
| | | |
| --- | --- | --- |
| Style | Size | Cover Style |
| Standard landscape | 10x8 | Softcover or hardcover: dust jacket or imagewrap |
| Small square | 7x7 | Softcover  or hardcover: dust jacket or imagewrap |
| Standard portrait | 8x10 | Softcover  or hardcover: dust jacket or imagewrap |
| Large square | 12x12 | Hardcover: dust jacket or imagewrap |
| Large landscape | 13x11 | Hardcover: dust jacket or imagewrap |
Prices
Prices are quite reasonable if you are using the standard paper. A 20-page 8x10 hardcover image wrap book would cost $31.99; additional pages are only 20 cents each, so a 40-page book is only $4 more – that's a great deal! Upgrading to Premium paper costs about $4.72 more for the above 20-page book. Upgrading to ProLine Coated paper adds $16 (20 pages). If you want the Blurb logo removed from your book or replaced with your own, add a whopping 25% to the total price. That can really add up to a lot if you are making a big book, but it's a feature pros will appreciate.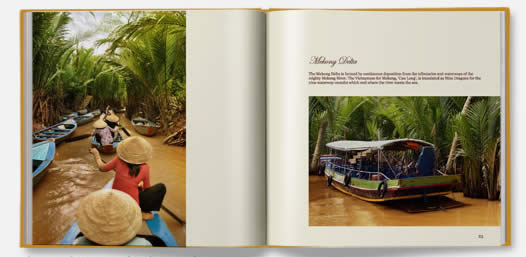 This is an example of a Blurb book "Vietnam" by Istvan Kadar Photography
Print Quality
Blurb uses HP Indigo digital offset presses and claims "bookstore quality." This proves to be accurate.  The color is right on, the finish is beautiful and the dots aren't really visible to the naked eye.  Blurb is a very good choice and well priced for the average person wanting to document their vacation or family events, as well as for the pro making a wedding album or high end coffee table book.