Get Great Photo Coupons & Promos
My motto is NEVER PAY FULL PRICE and you don't have to either! Photo services and software companies always have sales, so plan a little and save. I've got a bunch of new DISCOUNTS AND COUPON CODES including FREE SHIPPING and some excellent photo book deals.
Discounts, Promo Coupon Codes
Photos, Software, Photo Books & More
Mixbook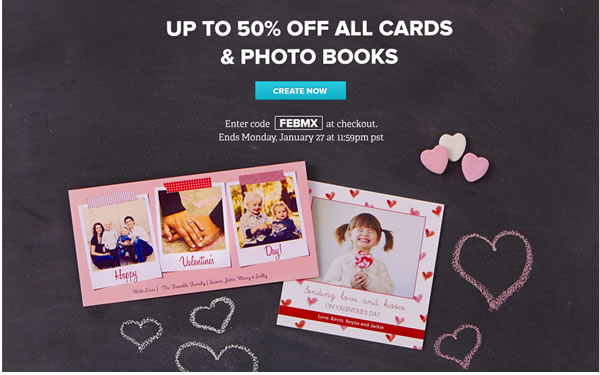 Current promos at Mixbook
My Publisher
Save up to $70 with free pages - 8.75 x 11.25 books up to 100 pages only $35, 11.5x15 books up to 100 pages now $70- COUPON CODE: JANPAGES. Ends Jan 27
View MyPublisher special offers
Picaboo
Up to 40% off Photo Books + FREE plus free shipping.
Coupon code: HEART2014 Ends Jan 27
25% off Cards + free shipping.
Coupon code: HEART2014 ends: Jan 27
** Picaboo now offers FREE GROUND SHIPPING in U.S. and Canada on all orders, no minimum or maximum!
Snapfish
Snapfish has the lowest 4x6 print price we've found - 9 cent prints every day. A great deal, and the quality is quite good.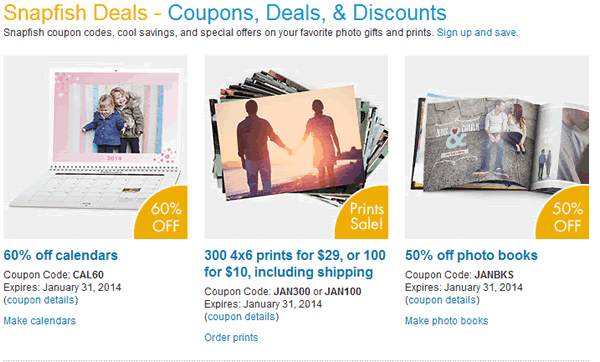 Shutterfly
Use coupon code SENDLUV to save 20% off site wide thru Jan 27

New Customers DAILY DEALS.
(valid 1 day only as listed)
Jan 24 - FREE MAGNET: coupon code 4NEWDAY
Jan 25 - FREE MOUSE PAD: coupon code 3NEWDAY
Jan 26 - FREE NOTE PAD: coupon code 2NEWDAY
Jan 27 - FREE 16X20 PRINT: coupon code: 1NEWDAY

Go to Shutterfly.com
Adoramapix
Blurb
Smilebooks
Read more about Smilebooks here.
Photo Scanning Services and Video to DVD Conversion

ScanDigital is popular photo and video digital conversion service that allows people to preserve, share and archive their old photos and home movies by transferring them to DVD. Read my ScanDigital Review
iMemories - Bring decades of family memories to the digital era so you can preserve and share them forever. Share Home Movies - Convert from Tape or Film, then watch and share home movies online
www.iMemories.com
Corel Software
I really like Corel Photo Shop Pro photo editing software. It is quite straighforward to use and has excellent editing tools. It is similar in many respects to Adobe Photoshop Elements but with this sale, costs about half. Corel also makes great video software, see below.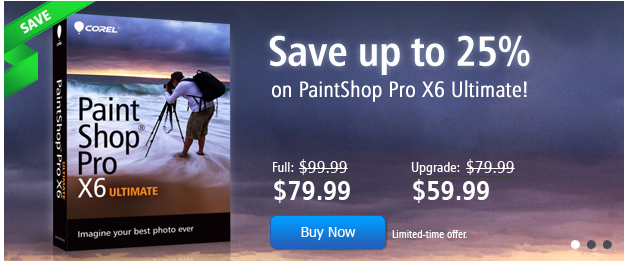 Go to Roxio.com »