Review: SmileBooks Design Service

Face it, we like the idea of designing a beautiful photo book of our latest vacation, family gathering or pictures of our new baby, but not all of us are creative types and we may not have the ability to tell a story well. Plus, we often just don't have the time it takes to sort through photos and figure out a layout, select backgrounds, size and place photos, etc. That's where SmileBooks new SmileBooks Design Service comes in.
SmileBooks Design Service is a companion service to its free, downloadable photobook design software and website which offers an excellent array of photo book sizes and styles. While the SmileBooks software is easy to use and best of all free, for those of us who just don't have the time or inclination, the design service is the answer. Just choose your book size and style, upload your photos and a professional graphics designer will organize and arrange your photos to tell your story. You can review the layout online and add captions. The personalized photo book service starts at $24.70 for a 26-page book with 50-100 photos. The design cost is added to the cost of printing the book which starts at $26.95. So that is about $51.65 for a completely designed 26-page book. The design cost above the initial 26 pages is $7.60 per 8 additional pages.
How SmileBooks Design Service Works
Choose a Design Style
My experience with the design service was great and it saved me so much time. I started by choosing from a selection of categories including travel, kids, seasons, special day (wedding, baby, family reunion etc.) You can be as specific or you can even choose "other" if your photos don't fit a particular category. I chose "travel." Then I had a choice of six basic design style categories - Classic, Heritage, Just Pictures, Modern, Pastels and Vibrant. Within these categories there is a range of "moods" you can select from to make your design special. When I made my photo book, I selected the "Just Pictures" style, which means that some of my photos will be used as the background instead of a background design or color. Since my photo book is of my trip to the Greek Isles, some of my photos would make stunning backgrounds.
Uploading Your Photos to SmileBooks Design Service
There are two options:

You can either pre-select just the images you want to use, or

If you have so many photos and you just can't or don't have time to figure out which ones are the best, you can upload ALL of them and your Smilebooks designer will choose the best images for you.
If you chose to have the design team select the photos, they will study them and build a story line, then select the best images based on people and emotions, scenery and environment and sequence of event. There is a $9.95 fee if you choose to have SmileBooks select your photos; it may be well-worth it if you are feeling overwhelmed with choices or feel you need a professional eye to pick the best shots.
I decided to have SmileBooks choose the photos for me. After uploading my photos (careful, once you finish uploading you cannot add or change the photos) , I received an email confirmation and was told my book would be ready for viewing in three business days.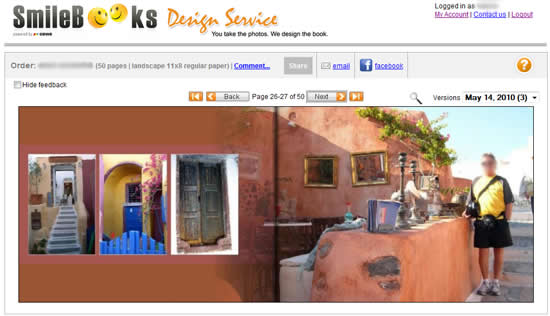 You can preview your photo book online, add captions and request changes.
Photo Book Designer Creates Your Book
A story editor and professional designer will organize the story board using the time stamps of the photos, arranges your photos into a narrative flow, removes red-eye, artistically design the photo book and send the draft SmileBook to you for review. Each book is unique; no templates are used. The designers are trained to create layouts that attract the eye and tell a story.
Review the Design
You will be notified when your photo book is ready for review. While the site said my preview would be ready in three business days from the time I uploaded my photos, it was ready the next day -- and it looked amazing! After logging into my free account I was able to review the book, enlarge pages for a closer look, make feedback on the photos and layout and add captions. You have seven days to view your book and request changes. Once you've signed off on the design you can place your order. You are only charged once for the design service. A suggestion: before you upload your photos, it is helpful to put all the photos you want to use in a separate folder so you know exactly which ones you have uploaded. There is no way to see a list of your images on the SmileBooks site. There were a couple of photos that I uploaded but didn't get used and I had to go back into several folders to find the right file names and ask them to use them.
After you approve the design, orders are typically received within 8-10 days. A caveat: you need to have your mind made up when you upload your photos, because once you choose the photo book style and size, you can't change it nor can you upload more photos if you forgot some (unless you cancel the order and start over). This is because your book gets story boarded and your photos are part of a sequence. However, you can reduce the number of pages during the review process. You can also modify the length of the book by requesting changes to the number of images used per page.
Learn more about SmileBooks Design Service.



The designers did a nice job selecting images to use and each page had a unique layout.
Photo Book Options
Photo Book Paper and Sizes
Choose from 8x8 Mini SmileBook, 8x11 Classic book, 11x8 Panorama Book, Deluxe 12x12 book, Panorama Professional SmileBook approx. 16.5" x 12", and Portrait Professional 11x14. All books have a minimum of 26 pages; new pages may be added in groups of eight. Generally a book of 46 pages or more looks best, but you can certainly go with the minimum of 26.
Smilebooks has the thickest paper of the sites I visited: 135lb extra heavy digital print paper compared to a standard 100lb found with most other companies. 200lb paper is used for the Panorama Professional books. There is also an option for silver halide photo paper with many books. For a comparison of photo book papers, see this page.
Photo Book Cover Options
Faux Leather (brown, black, cream), Premium Linen (silver, copper, black, blue or red), Hard Cover, Soft Cover options are available, depending on the photo book size. You can use a photo as a full page bleed on the cover (which is what I did), as well as add text to the cover (not available if using faux leather). Not all cover styles are available in all sizes. For a description of various photo book cover styles, click here.
Should You Use SmileBooks Design Service for Your Photo Books?
I love my Smilebook photo book. If you want a classy, high quality photo book and you just don't have the time or creativity to do it all yourself, SmileBooks Design Service is for you. The professional layouts are beautiful and compelling; books are competitively priced. Average production time is 8-10 business days and shipping is reasonable. Smilebooks offers a 100% risk free trial of their design service -- no design fees until the book is ordered. That means you can see a copy of your book, request changes and still have the option to cancel it before you place the order. Another perk is once you've placed your order, you can post your photo book to Facebook to share with friends and family. Click here for a comparison chart of photo book services.
If you are a major control freak and want to be in charge of every aspect of the design and layout, you may prefer to download Smilebooks' free photo book design software and design your book yourself, then upload and order your finished book at the Smilebooks website.