Is it Worth the Money to Pay for a Flickr Pro Account?
Note: Read my updated article on Flickr and other online photo storage services here.
Flickr is one of the most popular means of sharing photos online. Some of the top features include the ability to tell a story with your photos, add descriptions such as titles, tags, locations, names, etc. You can share your photos with family and friends, make comments, mark favorites, make notes and more. Flickr has a rich interface and many helpful tools for organizing and showing off your images. And you can do all this for FREE. So why would you consider paying to upgrade to a Pro Account?
Here are highlights of recent improvements to the Pro option:
Share 50MB photos
New HTML5 Drag and Drog photo upload tool
Up to 30% faster than before
Select multiple pictures to apply the same titles, tags and captions
Integration with Pinterest; make sure photos are properly attributed
Tons of Space
You never have to worry about having enough space because the Flickr Pro account gives you unlimited uploads, storage and bandwidth. If you take lots of photos and especially if you have a DSL, you will appreciate this.The free Flickr account compresses your files to a smaller size -- you can't upload full-resolution originals, which is a bummer. The Pro allows you to upload photos up to 50MB each. You also get unlimited video uploads (90 seconds max, 500MB per video).
Unlimited Sets and Collections
You can organize your photos into sets and collections, which I highly recommend if you have a lot of images. For those new to Flickr, a set contains photos and a collection contains one or more sets, or other collections. You can create as many categories as you wish. You can tag your photos and link them to your blog, Facebook or Twitter.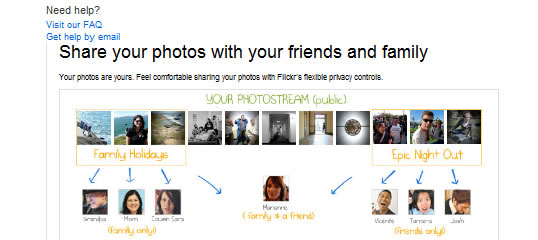 Archives Your Original Files
If you need a way to back up your original photos, the pro account offers this ability. So if you want to use Flickr as an inexpensive online backup for your photos, and get the option of letting your friends (and yourself) download originals, then the Pro account is the way to go. It's also great for being able to access your photos from anywhere, any time, and you know they are safe in the event your computer is damaged, lost or stolen.
Stats and Graphs
You get a dashboard with stats and graphs similar to Google Analytics so you can see how people are finding your photos. You can see which of your photos are the most popular (how many views) and where in the search engines people are finding your pictures.
No Ads
With a free account, you have to put up with ads, which is annoying. The pro version gives you ad-free browsing and sharing.
HD Video Playback
You get the ability to show HD video, of which, as mentioned above, you get unlimited uploads (90 seconds max, 500MB per video).
Here is a quick comparison of the Flickr Pro Account vs Free Version:
| | |
| --- | --- |
| Flickr Pro Account | Free Account |
| Unlimited Photo Uploads (20MB per image) and Unlimited Storage and Bandwidth | 300 MB monthly photo upload limit (15MB per photo) |
| Unlimited video uploads (90 seconds max, 500MB per video) | 2 video uploads each month (90 seconds max, 150MB per video) |
| HD Video Display | No HD video |
| Access to high-resolution original images | Access to smaller versions of the images (originals are saved in case you decide to upgrade later) |
| Unlimited display of images, sets and collections | Only the most recent 200 images are displayed |