Digital Photo Frames - What to Look For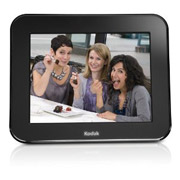 Digital photo frames are a hot item. They're a unique and versatile way to show off your favorite photos. Your digital photograph is displayed on an LCD panel within a frame that you can set on an desk or shelf. You can get frames in a variety of sizes, colors and styles to match your decor. Be sure to read reviews of digital photo frames before you buy, as features and quality vary.
Most frames are simple to use; just plug it into an electrical outlet and insert a memory card with your pictures into the slot provided. Some models allow you to choose either a single photo or you can display a group of photos as a slide show. Some frames have built-in memory that stores the images within the frame, freeing up your memory card. Others allow you to transfer directly from your computer via USB, while still others have wi-fi capability, which means you can change photos without using a memory card.
How to Choose a Digital Photo Frame
A variety of frame sizes are available with display areas ranging from about 5 1/2 inches (measuring diagonally) to approx. 10 inches.
Resolution and Image Quality
A key consideration when selecting a digital picture frame is the megapixel size of the images you want to use. Higher resolution photos (7 MP and up) display better on a larger frame. Beware of low resolution frames (less than 800x600). Smaller frames usually don't have high enough resolution for pictures over 6 megapixels. If you have a 7MP+ camera, pick a larger frame -- an eight to 10 inch screen is your best bet.
Special Features
Aside from image quality, what other features do you need? Will you want to change from portrait to landscape? Add music or watch video? Want wi fi or Bluetooth? Consider what you may want to do with your frame and what kind of features you may need.
Memory Compatibility
Some frames have internal memory so once you've transferred your images to the frame you don't need to have your memory card connected to display your pictures. Look for one that holds at least 512MB. Most frame models will accept a range of memory options including Compact Flash, Memory Stick and SD cards. Be sure to choose a frame that supports the same memory card format as your digital camera.
Ease of Use
Most photo frames are easy to use, you just plug it in, insert a memory card and turn it on. Some models have internal controls that let you choose images to display and to set other functions like slide show transitions. Several have wireless remote controls that make it more convenient to operate. Some can get pretty complicated with wi-fi, streaming Internet radio and complex menus. If you are buying one for novice users, best to stick with something easy to use.
Shop for a Digital Picture Frame